As you may know there are dozens, maybe even hundreds of Twitter clients available. Lots of them work on the desktop and need to be downloaded and installed. Tweetdeck is a very popular example of a desktop client. (Tweetdeck also offers versions of their client for the iPhone and the iPad.) I prefer using an alternative webclient for Twitter though that offers more functionality than the standard Twitter webpage. Advantages are that I don't have to install anything on the computer I am using and that my settings are remembered and stored with my account that I have created for the webclient. Some of the webclients don't even need separate accounts and only need you to login with your Twitter account to be able to work with them.
In this post I give you an overview of my favorite alternative webclients for Twitter. Please note that this post does not give you an exhaustive list and details of all the features of the webclients. I have tried to focus on the most important aspects and features that are in my opinion interesting to the user. For more information on a services, please visit their websites.

#1: Seesmic Web
Update July 4th, 2012: Seesmic is sunsetting a number of their products including Seesmic Web. This makes me very sad since I used this web application nearly every day in the past few years. Click here to read more about the end-of-life of Seesmic Web.
Seesmic develops Twitter clients for the desktop, iPhone, Android and for the web. As this post talks about webclients, I will focus on Seesmic Web here.
If you like Tweetdeck then you'll be in for a treat. Seesmic Web is also capable of working with columns, which can be based on your main timeline, mentions, favorites, any of your defined Twitter lists, trending topics and custom searches. Not only can you include your (multiple!) Twitter accounts in this webclient but also include your Facebook, Google Buzz, LinkedIn and Foursquare updates. Not bad at all! Direct messages are displayed in a separate view. DMs are displayed in columns as IM-like conversations. The number of columns you can use is unlimited and columns can be rearranged by dragging and dropping the title bar of the column.
Also worth mentioning here is the Contacts section where you can view and search your followers and the people you follow. This part of Seesmic Web is very powerful. Maintaining your following list and Twitter lists is incredibly easy. Other features worth mentioning are the mute option which removes tweets of a person from your timeline without unfollowing the person, custom filters on columns (both positive and negative filters), viewing a complete conversation of tweets by clicking on the words "in reply to" in a tweet, sound notifications (which can be turned off), view popups with user info including full avatar, and much, much more.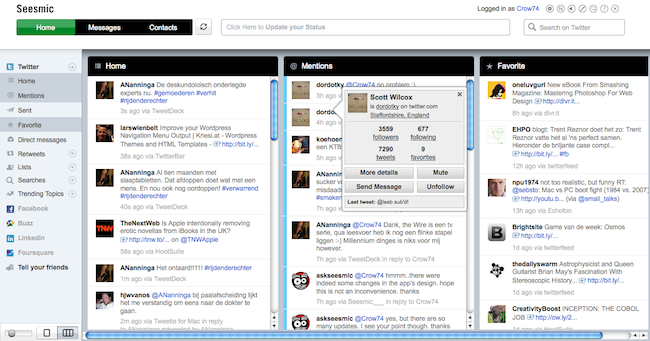 My opinion: So why is Seesmic Web my top pick? The main reasons are: use of columns and real-time updates. Furthermore the webclient performs quite well, even if you have about a dozen of columns open for hours in a row with hundreds of tweets in them. Especially the latest update of the webclient which was launched today improved performance and stability a lot over the previous version.
Dummy text

#2: Brizzly
Update March 6th, 2012: Brizzly will shut down on March 31st, 2012.
There goes my number two…
Brizzly positions itself as a reader for your Twitter and Facebook updates. Up to five Twitter accounts can be configured to use with Brizzly. Tweets are updated in real-time but only showed in real-time if you are looking at the top of the page in your browser. This circumvents that the stream of updates gets pushed down when you are skimming through or reading your updates while new ones are pulled in by Brizzly. When an update contains pictures or videos they are embedded in the page for your viewing pleasure. A nice feature that makes jumping to other web pages to view the media not necessary, unless you want a bigger view of the picture or video.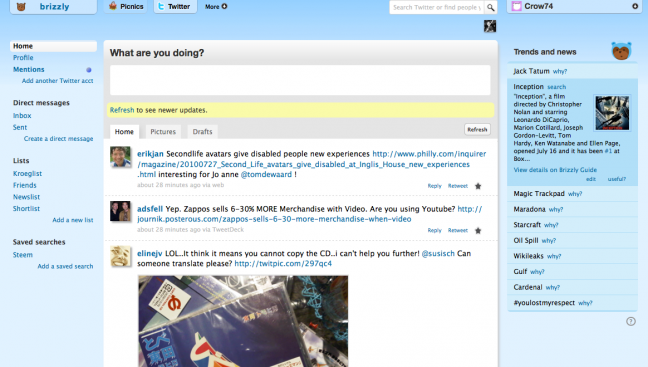 Check out the introduction video for an overview of Brizzly's features.
Dummy text
My opinion: What I like about Brizzly is the embedding of pictures and videos in my timeline. This works really well and looks good too. I also like the notifications when I receive new mentions or direct messages. A drawback of this webclient is that it feels a bit sluggish, especially compared to Seesmic Web which is blazingly fast.

#3: Twazzup
Twazzup feels like Twitter on steriods. And I mean lots of steriods here! The number of buttons, links and features is almost countless. The features worth mentioning are inline display of pictures and videos (as you saw earlier with Brizzly), summary of new tweets with avatars of the tweeters, auto-generated tag cloud based on your tweets of the last couple of hours, inline translation of a tweet, displaying summary info for links included in tweets, new tweets color marker, a tab page that shows only pictures and videos in your update stream, and much, much more.
You don't need an account to use Twazzup. Simply login with your Twitter account and you're good to go.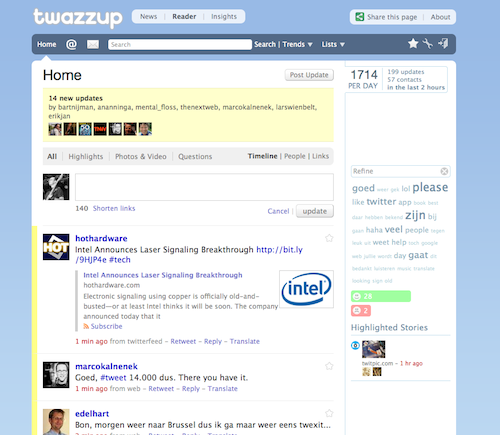 My opinion: Twazzup is awesome if you look at the number of options you have at your disposal. The biggest drawback for me however is the fact that the tweets are not updated real-time. Instead you'll see summary bar with the names and avatars for the new tweets that have arrived since your last refresh. It may work great for lots of people, but I prefer the real-time stream better that Seesmic Web has to offer.
#4: Threadsy
This web client does something that the other clients discussed above don't do. Threadsy does not only pull in your Twitter and Facebook updates but also your email and shows them in one view called "Inbound". This view takes up the biggest part of the screen. On the right side of the screen you'll see your Twitter and Facebook updates in one stream. If an update contains pictures or videos they are included in the stream. The stream is updated in real-time.
At the bottom of the screen you see a status bar which gives you the option to log into your favorite IM account. Supported IM networks are AIM, ICQ, Windows Live, Facebook, Google Talk, MySpace IM and Meebo. This makes Threadsy a very powerful social media hub where email, status updates and instant messaging come together.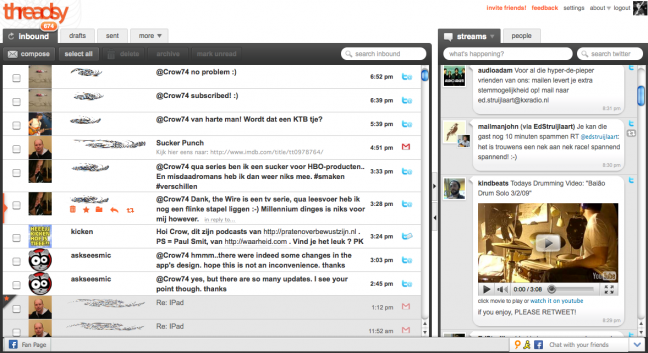 My opinion: Threadsy does an impressive job combining mail, status updates and instant messaging into one webclient. However, there is one thing that I really miss here: the way conversations (or threads) are displayed in GMail by stacking all the messages together and make them expandable and collapsible. That's the reason why I usually stay away from Threadsy. Nevertheless it's a great applications that I come back to every now and then.
How About You?
So now you know: Seesmic Web is my alternative Twitter webclient of choice. At least at this moment in time. I am curious to hear what your opinion is on this topic. I would love to hear them, so come in and leave a comment if you like.