Ever needed to connect to a different PC in your network for a remote session or to transfer some files? Or wished you could control the computer of a family member over the Internet without too much fuss because they called you for the umpteenth time for your much needed support? There are numerous applications to choose from that can support you doing these kind of tasks. One of them is TeamViewer, and I like it very much. It runs on all the major platforms: Windows, Mac OS X, Linux and even on your iPhone or iPad.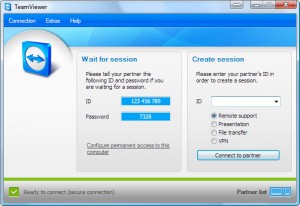 Using the software is very easy: download, install and run the program on both computers and connect using the TeamViewer IDs and password that are shown on your screen. And the best news of all? It is totally free for personal, non-commercial use.
One of the reasons I like TeamViewer is that the tool supports multiple platforms. In my situation I use TeamViewer on an iMac to connect to my old Windows PC that sits beside my desk. I installed the software on my Windows machine to run as a service so I do not need to have a monitor, mouse or keyboard connected. When I need my to do something on my PC, I just switch it on, wait until it is booted, turn on TeamViewer on my iMac and connect to my old Windows desktop. (Unless you forgot to write down the password for access to your remote machine which happened this evening. Argh!!)
On the iPad, the TeamViewer app it works pretty well too. I am able to connect with my iMac using my iPad, which is pretty neat. Now I don't have to stand up to change the playlist in iTunes! (Now before you begin: I now there are better apps and solutions for that but I just wanted to give an example of it's use here.) 🙂
Download link: http://teamviewer.com/
Do you have an opinion on this subject? Then I would love to hear from you. Feel free to leave a comment below.