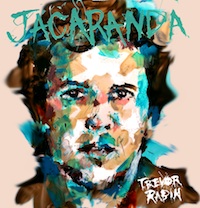 Update February 6th, 2012: The album has been rescheduled for an April release. Check out this post on the Facebook page of "Notes From The Edge" for more details.
The following news update was posted on the Facebook page of "Notes From The Edge", a leading Internet resource of news and information on present and former Yes band members:
Trevor told us that his new album of instrumentals titled "Jacaranda" is scheduled to be released in early January, and features Tal Wilkenfeld, Vinnie Colaiuta, Lou Molina, and Ryan Rabin (Trevor's son).
The post on Facebook contains a link to the cover of the new album which can also be viewed in a smaller size in this post.
What really excites me is the rhythm section of the new album. Vinnie Colaiuta and Tal Wilkenfeld are both amazing players. I am especially a big fan of Tal, which may not surprise you since I love playing the bass guitar. Her playing style and great tone remind me of Jaco Pastorius.
After the break you'll find two YouTube movies of Tal Wilkenfeld showing of her bass chops and her great tone.
Continue reading Trevor Rabin's New Album "Jacaranda" Scheduled for January Release