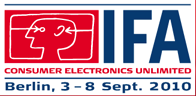 Last weekend I went to the 50th edition of the IFA trade show which took place at the Messe in Berlin. This is one of the biggest trade shows (if not, the biggest) in Europe for consumer electronics and home appliance. Spanning over 160,000 m2 and an interlinked network of 26 fair halls there is an awful lot to see and check out. Needless to say I was able to fill up the better part of two days walking around at the IFA and still did not see everything that was going on at the Messe. In this post I will discuss my highlights of these two days.
Visually Stunning Exhibition
The big and most influential brands of course had the biggest booths. Some of these companies even had a complete hall at their disposal. Among them were Samsung, Sony, LG, Phillips and Panasonic. No expense was spared by these big companies to show off their trade in visually stunning ways. I have included a few pictures at the bottom of this post to give you an idea, although I realize they cannot get across what I have seen with my own eyes.
The Magic Word: 3D
Most important theme of this IFA was definitely 3D. Almost every TV manufacturer has launched (or will launch soon) one or more models that support 3D. Most of these 3DTVs were on display at the IFA. Of all the 3DTVs I have seen I find that TVs by Samsung, Panasonic and Toshiba currently deliver the best image quality. Sony, LG and Sharp were a bit behind but still very acceptable.
go here
)
More 3D Innovations
Two other 3D innovations that were on display are definitely worth mentioning. The first one is 3DTV without the need for glasses. I have seen two prototypes: one from Vestel and one from Samsung. The latter had far better image quality and the 3D effect was stunning. It is incredible to see depth in an image projected on a television screen and get the illusion that objects can stick out of the TV set. A major drawback though is the resolution of the screen that is still too low to get a nice and detailed image like we are used to nowadays with HD-Ready and Full-HD televisions.
The other 3D innovation is developed by Toshiba in the form of a chipset that performs a real-time conversion of 2D material to 3D material. The demo presentation I have seen was impressive to say the least but not completely error-free. This technology will be available in 3D Blu-ray players from 2011.
Tablets
As an owner of an iPad I was very curious what kind of new tablets would be presented to the public. Most of these tablets are running on a version of Google's Android OS. I have seen and played with a couple of them, varying from cheap Chinese iPad rip-offs running on Android of even Windows CE v6 (or even v5!) to the quite impressive Samsung Galaxy S Tab pictured on the left. This tablet has a 7 inch screen, weighs about half of an iPad and runs on Android 2.2 (a.k.a. Froyo).
My first impression is quite positive, although scrolling and zooming is less slick than on the iPad. There will definitely be a big audience for this tablet. Time will tell if the developer community will embrace this device (and the other Android tablets) and create interesting apps for it. In the meantime I think the iPad will be the leading device for at least the next two or three years.

Other Interesting Things
I will conclude this post with a few other things that I found interesting. One them was the Samsung SP-H03 pico projector which is only 2.5 inch wide and 1.5 inch high. How portable can you get with a projector? Image quality was surely acceptable considering the size. Then there was the Toshiba Libretto W100 mobile PC with dual touchscreen, running on Windows 7. Pretty cool device, although I still have the opinion that Windows 7 is not the best operating system for this kind of (tablet) devices.
At the Sonos stand I had the opportunity to get a demonstration of the latest iPad app for remotely controlling the ZonePlayer streaming devices that Sonos is selling. I instantly fell in love with the app! It looks and feels amazing and makes me really want to buy one of those ZonePlayers. An other reason to get a Sonos ZonePlayer is the fact that they now support Spotify. This happens to be one of my favorite music services. Add Last.fm scrobbling into the equation and this device is a winner. Want! 🙂