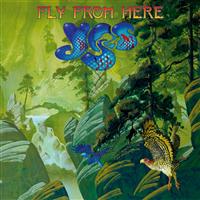 Update: "We Can Fly" is also available on Spotify in a high-quality stream. Click here to open.
RollingStone.com has an exclusive stream of Yes' new single "We Can Fly" available on their website. The track is a section of the long epic track "Fly From Here" that will be the first track on the new album with the same name. The new album has been produced by Trevor Horn, who has been a part of Yes on one album called "Drama"
and produced the band's two albums that followed: "90125"
, with their number 1 hit "Owner of a Lonely Heart", and the album "Big Generator"
.
The new album "Fly From Here"
will be the second album in the history of Yes that does not feature singer and co-founder of the band Jon Anderson. The new singer is Benoît David who has been picked up from a Yes tribute band. He has been touring with Yes for over a year now. Keyboards on the new album are played by Geoff Downes, who collaborated with Trevor Horn in the past with The Buggles and also played on the "Drama" album with Yes.
I have listened to the new single a couple of times in a row now and I certainly like what I hear. Musically it sounds very interesting to my ears. The production is crisp, as we could have expected from Trevor Horn considering his reputation as a top producer. Benoît David's voice reminds me a lot of Trevor Horn on the "Drama"
album. Since this is one of my favorite albums and I like The Buggles very much as well, I certainly don't have a problem with this.
There is one thing that I don't like though. At the beginning of the track there is a bit to much auto-tune applied to the voice of Benoît David. I hope this is an exception on the album, but I am very afraid that it's not. I will therefore listen to the new album on Spotify first when it comes available there before buying it, because too much auto-tune can spoil my fun tremendously. It could even make me decide to skip this album all together. For this exact reason I have returned the last Toto live-DVD to the store I bought it from. All of the vocals were auto-tuned to death. I just could not listen to it and went totally mad about it.