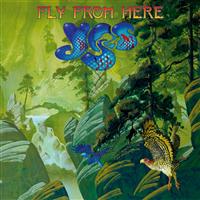 Update: "We Can Fly" is also available on Spotify in a high-quality stream. Click here to open.
RollingStone.com has an exclusive stream of Yes' new single "We Can Fly" available on their website. The track is a section of the long epic track "Fly From Here" that will be the first track on the new album with the same name. The new album has been produced by Trevor Horn, who has been a part of Yes on one album called "Drama"
and produced the band's two albums that followed: "90125"
, with their number 1 hit "Owner of a Lonely Heart", and the album "Big Generator"
.
The new album "Fly From Here"
will be the second album in the history of Yes that does not feature singer and co-founder of the band Jon Anderson. The new singer is Benoît David who has been picked up from a Yes tribute band. He has been touring with Yes for over a year now. Keyboards on the new album are played by Geoff Downes, who collaborated with Trevor Horn in the past with The Buggles and also played on the "Drama" album with Yes.
Continue reading Listen to New Yes-Single "We Can Fly" on RollingStone.com