The first time I got to know Joe Bonamassa's music was when web store Amazon.com recommended me the album "Sloe Gin". This recommendation was based on the fact that I ordered a couple of CDs and instruction DVDs from blues guitar player Robben Ford. I remember listening to the album "Sloe Gin", thinking it was okay but not completely my cup of tea, and lost sight of Joe Bonamassa.
(Pictures by @attilladegroot)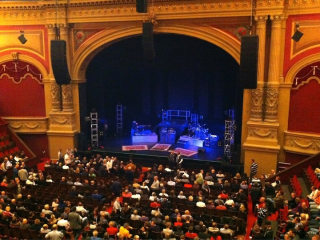 That was until a friend of mine mentioned Mr. Bonamassa to me and asked if I was interested to go and see him at the Royal Carré theatre in Amsterdam. That was in 2009. I can't remember if I said "No thanks, maybe next time" or if the concert was already sold out at that time and I couldn't go anyway. What I do know is that this particular friend managed to get a ticket for that show in 2009 a couple of days before the show via the Internet, went to see him and was completely blown away. So when I read a couple of months ago that Joe Bonamassa would return to Carré on November 7th of this year, I didn't hesitate and made sure I was going to be there this time, together with this friend I mentioned earlier.
Continue reading Review: Joe Bonamassa Rocks the Royal Carré Theatre