The first time I got to know Joe Bonamassa's music was when web store Amazon.com recommended me the album "Sloe Gin". This recommendation was based on the fact that I ordered a couple of CDs and instruction DVDs from blues guitar player Robben Ford. I remember listening to the album "Sloe Gin", thinking it was okay but not completely my cup of tea, and lost sight of Joe Bonamassa.
(Pictures by @attilladegroot)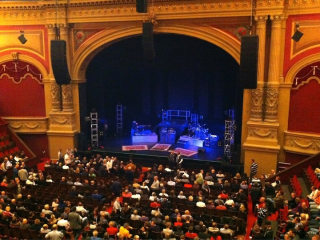 That was until a friend of mine mentioned Mr. Bonamassa to me and asked if I was interested to go and see him at the Royal Carré theatre in Amsterdam. That was in 2009. I can't remember if I said "No thanks, maybe next time" or if the concert was already sold out at that time and I couldn't go anyway. What I do know is that this particular friend managed to get a ticket for that show in 2009 a couple of days before the show via the Internet, went to see him and was completely blown away. So when I read a couple of months ago that Joe Bonamassa would return to Carré on November 7th of this year, I didn't hesitate and made sure I was going to be there this time, together with this friend I mentioned earlier.
So much for the introduction. Back to the present time: it's just past midnight and I have witnessed a great show at the Royal Carré theatre where Joe Bonamassa was the center of the universe for just over two hours and more than 1700 people. Before I continue: I am not as introduced into all of the music of Joe Bonamassa as some of you readers might be. Please take this under consideration before you read the rest of this story.
Blues-rock extravaganza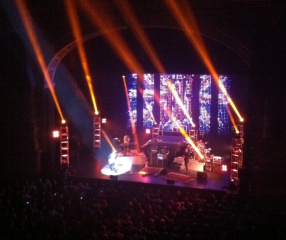 Joe Bonamassa rocked the house. Totally. He is an awesome blues-rock guitarist with a hardrock edge. His technique and precision is immaculate and gets almost scary during the abundant solos. Bonamassa was accompanied by a great trio of musicians that were up to par and fit his style very well, consisting of a keyboard player with a focus on the Hammond organ, a drummer and a bass player. Especially the bass player was a joy to listen to, hitting almost every possible note on his instrument but never loosing the groove. (Of course I am biased here, being a bass player myself! 🙂 .)
After a fierce blues-rock extravaganza of nearly 90 minutes, the band walked off the stage while Joe Bonamassa switched to an acoustic guitar. For about 10 minutes the stage is filled with Joe's presence only, as he plays a fabulous piece of music, switching from gently chord picking to incredibly fast blues solos, applying dynamics in various ways. This part of the show was very impressive and was definitely a highlight for me. In the last half hour the band picked up where they left off before the acoustic intermezzo and ended with the show with two encores, resulting in a standing ovation of the crowd that lasted for a couple of minutes.
All in all this was an incredible performance and a great show. I have one minor criticism though. The Royal Carré theatre is a venue with great acoustics and has an intimacy that is the result the classic setting and furniture, the red carpets, the way the seats are arranged in the venue, etcetera. (See the first picture in this post to see what I mean.) If Joe Bonamassa would have adapted his setlist by playing a couple of more intimate, quieter songs, the show would have been absolutely perfect.