Jean-Michel Jarre – Royal Theatre Carré – March 25th, 2008
The moment I saw that tickets where going to be on sale for the 30th anniversary tour of Jean-Michel Jarre's Oxygene album, my heart skipped a beat! And the venue that he chose to play this piece of music surprised me even more. Royal Theatre Carré is not a very big venue, which is a big contrast with the enormous outdoor events that mister Jarre conceived in the past. So this was really too good to be true! A friend of mine even managed to get tickets for the third row as counted from the stage. (Kudos to Mosphat!)
The view we had on the stage was very impressive with a large amount of old, vintage synthesizers in front of us, centered around four performers in total. Mister Jarre of course stood in the center of the stage, completely surrounded with keyboards, synths and organs. Lots of the instruments were at least 30 years old or more. During the short introduction speech, Jean-Michel told the audience that all of these old instruments needed to be handled like "old ladies". Each instrument needed to be tuned separately, which the performers did live in front of the audience. Can you believe this? Unforgettable!
The concert was really great! It was even better than I had expected it to be. Jean-Michel Jarre and his fellow musicians played the whole new Oxygene album (including the Prelude and the Variations) and some parts of the Part Two album. The light show was modest but very nicely done. After about fifteen minutes a large mirror was lowered from the ceiling of the venue and tilted for about 45 degrees so the audience could watch the whole spectacle from above in the mirror. Very cool to say the least! After about an hour a projector was turned which played a 3D CGI movie of the skull-in-earth logo from the Oxygene album. It's a little bit weird (maybe even a bit morbid) to watch a movie in the background where you very gently fly through the socket of one eye and leave the skull through the other eye socket…!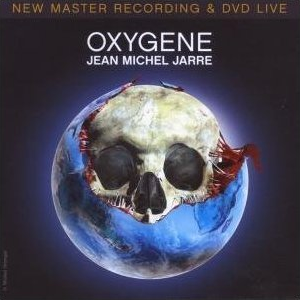 All in all it was a great experience to see and hear Jean-Michel Jarre in a venue like this, performing one of his masterpieces. Afterwards I could not resist buying the new CD/DVD reissue of the Oxygene album. The CD contains a rerecorded version of the Oxygene album, using all his old, vintage instruments but recorded using the latest recording technologies. The DVD contains "Oxygene Live in Your Living Room", which is almost the same performance as we saw live. Which is great actually and brings the memory of the concert to life again! The DVD also contains a 5.1 surround mix of the new Oxygene album and a bonus feature where Jean-Michel Jarre introduces all the synthesizers used for the recording and the live performance.
Marvelous!
(Originally posted on my Last.fm journal)