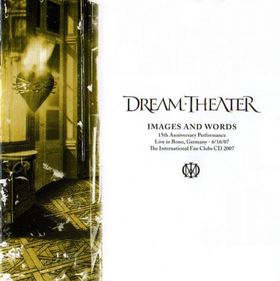 When I picked up my mail from my mailbox last Friday I was pleasantly surprised to find a package from Voices UK, the UK based Dream Theater fanclub. Since the previous issue was sent to me more than a year ago I thought that they had stopped existing or had totally forgotten about me.
As soon as I stepped into my apartment I ripped open the envelope and I found a brand new fanclub CD inside and the new issue or the fanzine. When I checked the label of the CD I just could not believe my eyes. The CD contained the 15th anniversary performance of the Images and Words album which I attended last year in Bonn, Germany. I jumped with joy! Wow! Fantastic! What a great souvenir of this fantastic concert!
Because it was already late I decided to give the CD a spin on Saturday. I played it at concert sound level and I loved it from start to finish! The sound quality of this fanclub CD is great and the performance is very good, just as I described last year in my review of the event.
What a great way to start the weekend!
(Originally posted on my Last.fm journal)