Posts Tagged 'Jon Anderson'
A lot is going on in the world of Yes and their current and former band members this year. A few months ago I discussed the excellent Yes Union deluxe box-set. But that was only the beginning. Check out this round-up of releases that I am looking forward to hear and have been released lately or can be expected in the next few months.
Yes – Fly From Here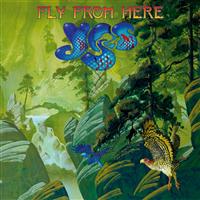 Of course there is the new Yes album titled "Fly From Here" that was announced end March. The album was co-written and produced by Trevor Horn, who also produced their hit album "90125" and their less successful "Big Generator". The new album won't feature Jon Anderson on vocals but their new singer Benoît David. This release also marks the comeback of Geoff Downes (The Buggles, Asia) behind the keyboards who has been a part of the band together with Horn when they recorded, released and toured with the "Drama" album.
Jon Anderson – 013 – March 24th, 2007
A friend of mine brought to my attention that Jon Anderson was giving a workhop on the 24th of March in 013, Tilburg. There was only one slight problem: he told me this on the evening of the 23rd, and I had to rehearse with my band that evening so I could not arrange anything or call any friends to go. I didn't even know if there were any tickets left for this workshop and I was very anxious to be a part of it!
The next day I called a couple of friends but they all had made other plans for the evening. The same counted for me actually, but I was willing to change my plans for this very special concert/workshop.  🙂
I called the venue to ask if there were any tickets left. Luckily there were, so I decided to take my car and a couple of CD's and drive to Tilburg, which is a two hour drive from where I live. I played Olias of Sunhillow to get in the mood and after that I played the debut album from Pure Reason Revolution, which I can recommend to any progressive rock fan!